All 3 FINAL EXAM Scores are available on Quest
Please realize that there are THREE final exam assignments (Final-70x, Final-75, and Final-80) for each of the 3 classes. You will only have a non-zero score for the ONE final you took. THAT will be the score used in your grade calculation. Please don't email about your "zero" in another section of class. The only score that matters is the score in YOUR section of CH301.
The curve for the final was 5 points. Quest IS showing the curved scores correctly. All grade-breaks remain the same as they were on the first day of class.
Course is Officially OVER - Done!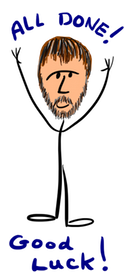 All grades have been submitted to the registrar and the course is finally over. To those moving on into CH302, yes, the same book and edition will be used. The Chapters covered for CH302 will be Chapters 17, 6, 7, 8, 11, and 15 in that order. Many pieces of CH301 will carry over to CH302.
Have a great break and come back ready to do it all over again for CH302. Good luck with your future courses - hopefully you will carry some new found chemistry knowledge with you. Over and out. - Dr. McCord
Final Exam Copies Available in WEL 2.212
If you do feel compelled to have your actual final exam copy (as opposed to the pdf you get on Quest), then you need to go to WEL 2.212 and ask for it there. They have all the exams and they are officially released to students now.